SESSIONS & CLASSES
In addition to Pilates, we offer total body strengthening and conditioning using free weights, TRX, Cardio Tramp, Bosu, stability ball, flex bands and yoga.  We have recently added Fascial Stretch Therapy.
FASCIAL STRETCH THERAPY™ (FST™)
FST is one of the quickest, most effective and pleasant methods to eliminate pain, restore function, move & feel better in activities of life, fitness and sports!  Call us for more information.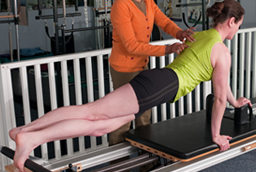 PRIVATE SESSION
One trainer per client: the best way to experience a workout.
You receive full attention and a workout that is tailored specifically to the client. Clients will work on reformer, Cadillac, stability chair, arc and ladder barrels and mat to provide a challenging, engaging workout. Our trainers strive to bring out your body's limitless possibilities.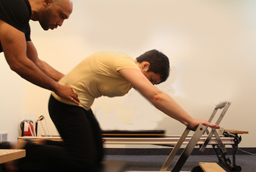 DUOS
One trainer per two clients. For clients who have experienced privates and want to pair up with a friend, spouse, sibling or child at the same level. Workouts are less specified to individuals. All pieces of equipment used for privates will be used for duos except for the Cadillac. Duos provide a relaxed environment and allow us to reach fitness goals in good company. Classes are progressive. Reach fitness goals you never thought possible a partner at your side every step of the way.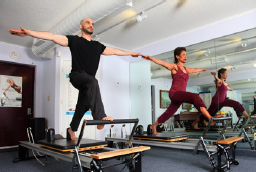 SMALL GROUP : 3 PEOPLE (EQUIPMENT BASED)
Chair, Reformer and/or Cardio Tramp
One trainer, three clients, at the same level of experience.
A more informal class setting with variety in your workout to keep you engaged.
Much less tailored to the individual but conducive to those looking for a setting that will be both challenging and encouraging and allows us to feed off of each others energy.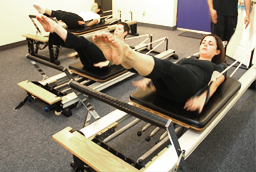 MAT CLASS
Mat work with props focusing on core stability and fluid movement. Mixed level and modifications available. This is a progressive series. Mat classes will also include principles of yoga and general fitness (weights, Tubing, BOSU) to keep things interesting and increase challenge.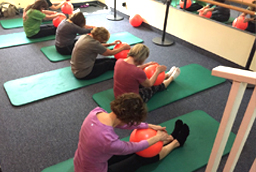 TOTAL BARRE™
This group class is done at the ballet barre to music. It is a combination of Pilates, dance, cardio and strength training, designed to tone arms, legs and core. No dance experience required, just a willingness to move, strengthen and challenge your entire body.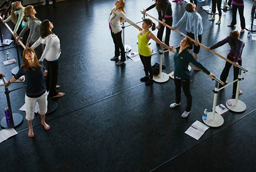 GETTING STARTED:
New Client Introductory Package
3 Private sessions at 200.00
After you have completed your introductory series, ask about our Series discounts.
PRICES:
PRIVATES $85 – $120 per session
DUOS $60 per session per person
TRIOS $45 per session per person
Group virtual mat class $20 per person.  Our fees above represent a range that varies according to the frequency by which you attend.
Prices: Prices subject to change without notice.
Please call or email for additional pricing information
Phone: 651-645-5542
651-338-6540 (TEXT ONLY) Rose
651-247-6263 (TEXT ONLY) Tony
Email: studioinbalance@gmail.com
Facebook: https://www.facebook.com/StudioInBalance
Website: http://studioinbalancestp.com